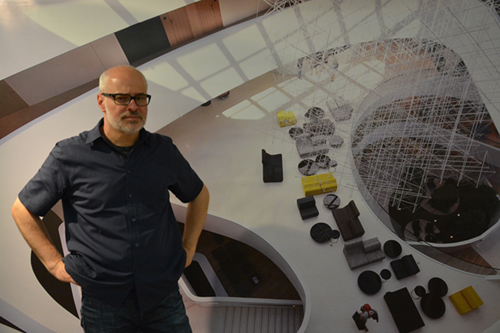 Curriculum Vitae Michael Zinganel (bis 2013)
This webpage is not updated since it was designed with a program that does not exist anymore. For recent projects please visit Tracing Spaces

And/or please download updated PDF-Files:

CV (47 kb)
Central Interdisciplinary Projects (863 kb)
Exhibitions (71 kb)
Publications, Lectures (213 kb)


Michael Zinganel graduated at the faculty of Architecture at Graz University of Technology; he visited a 2 year postgraduate programme in fine arts at the Jan van Eyck Academy Maastricht and obtained a PhD in contemporary history at the University of Vienna. He taught at various universities and academies and was a research fellow at the IFK (International Center for Cultural Studies) in Vienna in the summer-term 2003. From 2001 to 2010 he was assistant professor at the Institute of Building Typology at the Graz University of Technology. Since 2011/12 he was research adviser at the postgraduate academy of Bauhaus Dessau Foundation.

Projects
Michael Zinganel lives and works moreover as freelance architecture theorist, cultural historian, curator and artist in Graz and Vienna for exhibitions and projects about the deconstruction of the mythologies of planning processes in contrast to "everyday experience":

e.g. on empty spaces in Social Housing blocks (Freiraum Superblock, a touring exhibition through common amenities in Viennese municipal buildings of the inter-war-period, Vienna 1995), Sex & Space (in cooperation with Marion von Osten, Forum Stadtpark, Graz 1997), Anonymous Single Family Houses (We-House-Builders. Building in Austria, Centre for Architecture Vienna 1998), Home (Secession, Vienna 1999), www.eigenheim.at (Galerie 5020, Salzburg 2001).
The emphasis on architecture and city design was the topic of his most intesive projects: Real Crime. Where he elaborated the Marxian notion of the productive force of crime for the development of art, architecture and urban design.
The very same issue became the topic of his dissertation at the Institute for Contemporary History of the University Vienna. It was published as a book in fall 2003: Michael Zinganel, Real Crime, Architecture & Crime, edition selene, Vienna.

Since 2003 Michael Zinganel worked on various aspects of urban and transnational mobility, contemporary mass tourism and migration, both on a micro- and macro-political level, both in the academic and the art sphere.
In 2003 and 2006 he organized two interdisciplinary conferences and art exhibitions on Mass Tourism, Art and Architecture in Graz. In 2006/07 Michael Zinganel was project partner of Peter Spillmann in two research projects in Switzerland: on the Role of Art in Tourism and on the desires of 'exotic' tourists from new markets like Japan, India, Russia and China. 2008/09 he was involved as exhibition designer and mediator in an project on migration with studends of ethnography and history from Munich University opening in July 2009.

Together with Michael Hieslmair he worked on several art installations dealing with mobilities. In 2012 they co-founded tracingspaces.net.


Publications

Monography

Michael Zinganel (2003) Real Crime: Architektur, Stadt und Verbrechen, Vienna: Edition Selene.

Co-Editor

Michael Zinganel, Elke Bayer und Anke Hagemann (eds)(2013): Holidays after the Fall. Seaside Architecture and Urbanism in Bulgaria and Croatia, Berlin: jovis (in print)
Michael Zinganel, Hans Albers, Marusa Sagadin, Michael Hieslmair (2006) Saison Opening: Kulturtransfer über ostdeutsch-tirolerische Migrationsrouten, Frankfurt: Revolver.
Matthias Marschik, Rudolf Müllner, Georg Spitaler u. Michael Zinganel (eds) (2005) Stadion: Architektur, Politik, Ökonomie, Wien: Turia & Kant.
Michael Zinganel and Peter Spillmann (eds) (2004) Backstage*Tours: Reisen in den touristischen Raum, Graz: Verlag Forum Stadtpark.

Recent Texts – in English language only

Zinganel M. (2013) 'Stopover: An excerpt from the network of actor-oriented mobility movements', in: Sven Kesselring, Gerlinde Vogl and Susanne Witzgall (eds): New Mobilities Regimes in Art and Social Sciences, Aldershot: Ashgate.
Zinganel M. (2012) 'The CUBE Hotel: An ultimate home base and stage-scape of the alpine event society', in: Tom Avermaete and Anne Massey (eds): Hotel Lobbies. Anonymous Domesticity and Public Discretion, London: Routledge.
Zinganel M. (2010) 'The Stadium as Cash Machine', in S. Frank and S. Steets (eds) Stadium Worlds: Football, Space and the Built Environment, London: Routledge.
Zinganel M. (2009) 'The City speaks! A fictitious dialogue', in steirischer herbst (ed.) Utopia und Monument 1: On the validity of Art and the Public Space, Graz: steirischer herbst.
Zinganel M. (2009) 'Crime does pay! The Structure-Building Power of Crime for Urban Planning and Urban Experience', in International Architecture Biennale Rotterdam (ed.) Open City: Designing Coexistence, Amsterdam: Sun.
Zinganel M. (2008) 'Landscapes of Power', in T. Brejzek (Ed.): Monitoring Scenography 01: Space and Power, Zürich: ZHdK.
Zinganel M. (2008) 'Tourist Bubble Everywhere: Tourism, Difference und the Touristification of the Everyday' in: J. Bielanska et al (eds) Urban Potentials: Konzepte und Handlungen, Dresden: Jovis.
Zinganel M. (2008) 'Alpine Sprawl: The urbanisation of the Alpine leisure fringe', in F. Ferguson and Swiss Architecture Museum (eds) S AM 3 Arch / Scapes: Negotiating Architecture and Landscape, Basel: Christoph Merian Verlag.
Zinganel M. (2007) 'In Between: Alpine tourism in a condensed transitional landscape', Paper presented at the Conference Things That Move: The Material World of Tourism and Travel, Centre for Tourism and Cultural Change - Leeds Metropolitan University, UK.
Zinganel M. (2006) 'Maximum Security: Constructing Threat', in A. Corcilius, I. Pate, I. Reinert, J. Sack (eds) Revisiting Home: Dwelling as the Interface between the Individual and Society, Berlin: NGBK.
Zinganel M. (2006) 'Vandalism as a Productive Force', in Monu. magazine on urbanism, 5.
Zinganel M. (2006) 'Dertnig's bed and breakfast: Strategies of performance in staged alpine landscapes', in S. Eiblmayr (ed.) Carola Dertnig. Afterimages of a Non-simultaneous Present, Innsbruck: Skarabæus Verlag.
Zinganel M. (2006) 'Sun, Sand and Architecture: Sinai Hotels in the Context of the Tourist Industry's Synthesis of Desire', in Haubitz + Zoche (eds) Sinai Hotels, Salzburg: Fotohof edition.
Zinganel M. (2005) 'Tourism in a Luxurious Void: The Production of Desire, Cultural Transfer and Unintentional Side Effects', in P. Oswalt (ed.) Shrinking Cities, Volume 2 – Interventions, Ostfildern-Ruit: Hatje Cantz.
Zinganel M. (2004) 'Vandalism as a Productive Force', in P. Oswalt (ed.) Shrinking Cities, Volume 1 – Research, Ostfildern-Ruit: Hatje Cantz.
Zinganel M. (2003) 'We are building Security!' in J. Becker et al (eds) Learning from*: Städte von Welt, Phantasmen der Zivilgesellschaft, informelle Organisation, Berlin: NGBK.
Zinganel M. (2002) 'Crime does pay!' in Archis, 3.


Recent Contributions to Exhibitions

2013 Vienna Model, Austrian Cultural Forum New York
2012 Mapping Mobilities, Open Space, Wien (in cooperation with Michael Hieslmair)
2011 You never walk alone, Devided Confidence, a site specific Art in Public Space project for Reinsberg (in cooperation with Michael Hieslmair)
Don Camillo + Peppone. Eine gemischte Prozession, Festival der Regionen Umsteigen (in cooperation with Rupert Lehofer and Michael Hieslmair)
2010 Transfer Exit, Ruhr.2010, European Capital of Culture (in cooperation with Michael Hieslmair)
2009 Open Cities, 4 th International Architecture Biennale Rotterdam (in cooperation with Michael Hieslmair)
Crossing Munich, about spaces, representations and debates on migration in Munich, exhibition design (in cooperation with Michael Hieslmair)
Rewind, Fast Forward, Video Art from the collection of NEUE GALERIE Graz from 1970 up to today
2008 Hot Air, a theatre performance on regional branding, Bad Gleichenberg (in cooperation with Michael Hieslmair and Theater im Bahnhof Graz)
'Top of Experience', the art of entertainment parks, Kunsthalle Luzern, co-curating and exhibition design (in cooperation with Peter Spillmann)
'Islands and Ghettoes', on expats and migrants in Dubai, Caracas and Heidelberg, Kunstverein Heidelberg, NGBK Berlin (in cooperation with Michael Hieslmair)
'Exit Karlsplatz', on an important inner city underground traffic junction, Wien Museum (in cooperation with Michael Hieslmair)
2007 'Kerbl Ltd.', on a motorway gas and service station alongside a transnational migration route, Festival der Regionen Oberösterreich, Galerie ACC Weimar (in cooperation with Michael Hieslmair and Marusa Sagadin)
2006 'Saison Opening', on cultural exchange through seasonal migrant labour in between East Germany and the Austrian Alps, Shrinking Cities II, Galerie für zeitgenössische Kunst Leipzig, Kunstverein Köln, Lakeside Park Klagenfurt (in cooperation with Michael Hieslmair, Marusa Sagadin and Hans Albers)


Memberships, Awards
Curator for Fine Arts at Forum Stadtpark Graz, Austria from 2003–2006
Scholarship of the Margarethe Schütte-Lihotzky Award 2000 of the Austrian Chancellary
Member of Österreichische Gesellschaft für Architektur (ÖGFA, Austrian Architectural Society) since 2000
Member of Wiener Secession (Viennese Secession) since 1999


Portfolio of recent projects in english language
low resolution 3 MB
high resolution 40 MB